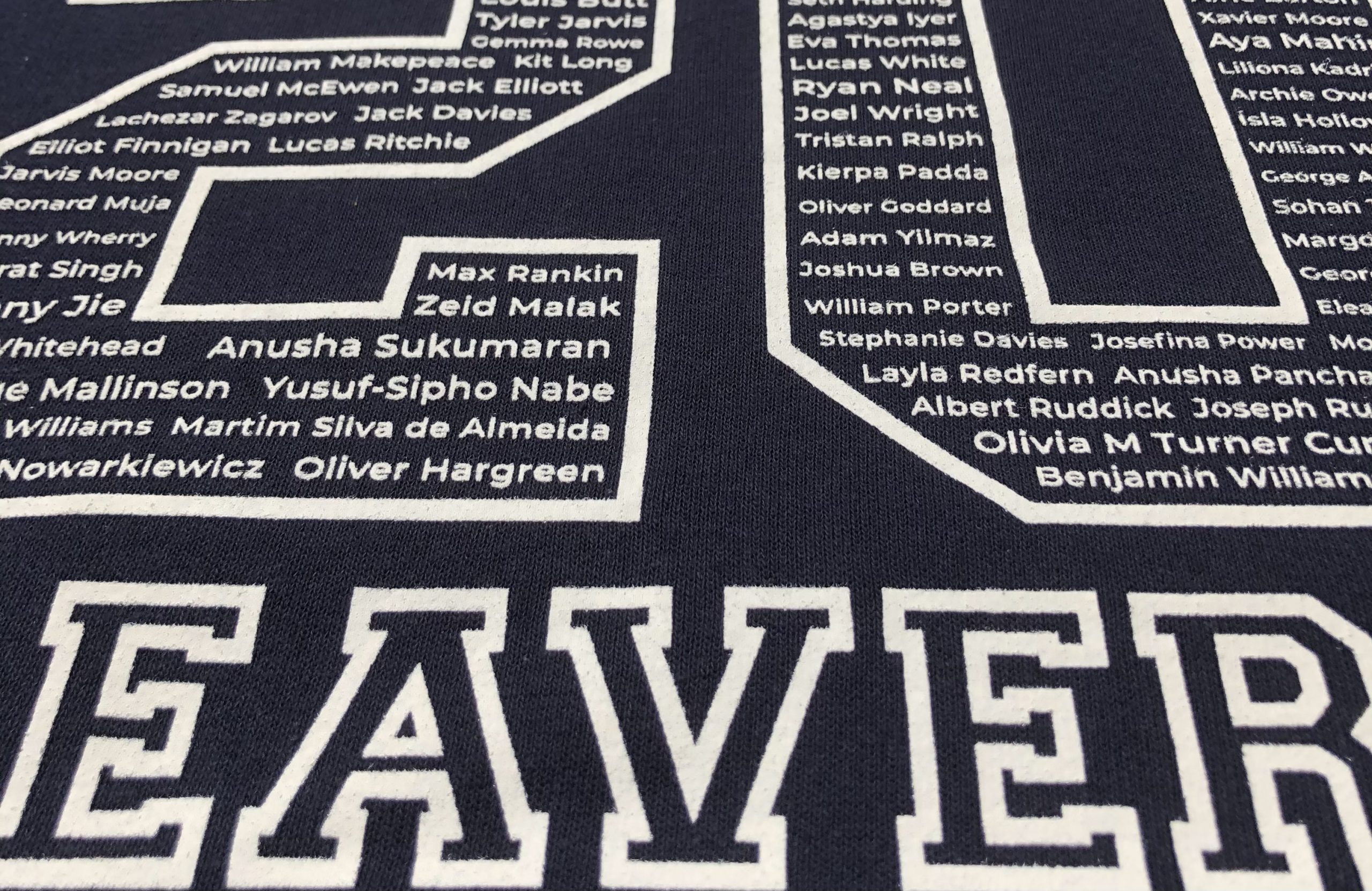 Leaver Hoodies
Get a quick quote and personalise your school or university leaver hoodies today
Get a Quick Quote →
Get your personalised leavers hoodie designed by expert printers
At Teetotal we understand that not everyone has the time or software to create their own designs for their leaver hoodies. Our friendly artwork team can help with all aspects of design so your leaver hoodie printing turns out exactly as you envisaged. Our leaver hoodie printers can redraw artwork, add or edit designs and create visuals for you. Sit back, relax and let us do the work for you!
Speak to Us →
Outstanding Leaver Hoodies

If you're looking for an outstanding leaver hoodie printers, you've come to the right place. At Teetotal we are experts in creating the perfect leaver hoodies for your university or school.
Whether you're in need of leaver hoodies for schools, universities, sports teams, or any other organisation; We can supply and print the perfect leaver hoodies for you.

We Care

We care that you are 100% happy with everything we supply. We have hundreds of leaver hoodies available for personalisation and have listed a few of our most popular leaver items below. Alternatively, you can check out the full catalogue where you will find even more hoodies that are perfect for university or school leavers hoodies. All our leavers hoodies can be branded with your logo or design.

We Deliver

We deliver exceptional quality leavers hoodies on time, every time. We specialise in bulk leaver hoodie orders and have been supplying universities and schools with leaver hoodies for over a decade.
Contact us today to see how we can improve on the quality, turnaround time and price that you may have received from other leavers hoodie suppliers.
Leavers Hoodies for your School, College, Club or University
At Teetotal we specialise in leavers hoodies as well as bulk order hoodies for a variety of occasions.
We don't use online templates and all our designs are created bespoke, just for you. The standard layout of a leavers hoodie would be to have the student's names printed within the year i.e. '23' at the back and a crest or logo on the left chest. We also offer personalised name printing to make each leavers hoodie extra special.
Not after personalised hoodies? We also have a large selection of other garments available such as leavers sweatshirts or leavers t-shirts. All these items come in a vast array of colours to match your club, group or brand identity. Click below to view the full catalogue.
Still not sure? We will be able to suggest the most suitable garments for your specific needs. Send us a message and we will be happy to assist.
Speak to Us →
Don't have artwork?

We have an artwork team ready to bring your leaver hoodie ideas to life! Simply send us your logo via the Quick Contact Form and we can draw up a design for you. We will make sure you know exactly what you are getting before your personalised leaver hoodies go to print. Why struggle with online design templates to create your designs for Leavers hoodies when we can create a fully bespoke design for you that you won't see anywhere else.

Screen print or embroidery?

We have a huge range of print processes at our disposal to create the perfect leavers hoodies based on your requirements. The back print for leavers hoodies is usually screen printed. We can also print the sleeves as well as other locations of your choosing. If you have a school crest we are able to embroider that on the front. Our team would be happy to suggest the correct process for your leaver's hoodies to suit your garment, design and budget.
Ordering leaver hoodies

Purchasing your printed leaver hoodies with us is very simple as we deal with most orders by email. To start the process off, send us a contact form and a member of our team will be in touch with a quote. If you are happy then an artwork visual will be sent by email for your approval. Then you can sit back, relax and wait for your leavers hoodies to arrive!

Bulk hoodie printers

At Teetotal we primarily deal with bulk orders from 5 to 50,000 items and we offer extremely competitive rates for leavers hoodie printing, especially on larger orders for schools & universities. We have many print processes available for your leaver hoodies which all have differing minimum orders. Please get in touch and we can advise on the best process for your needs and budget.
Frequently Asked Questions
What are your minimum order quantities for leaver hoodie printing?

The back names within the number are usually screen printed, therefore the minimum order is 10 items.

How long will it take to process my leaver hoodie order?

Different print processes have different turnaround times and it will depend how busy we are at the time. Most leaver hoodie orders will take roughly 10 to 12 working days but please contact us for an accurate turnaround time on your order.

Where do you deliver leaver hoodies to?

We currently only deliver hoodie to mainland UK.

What is the difference between screen print and vinyl print on a leaver hoodie?

Simply put, screen print is ink which is applied to the hoodie through a fine mesh and cured with heat. Vinyl is a high quality polyurethane film which is CAD cutand applied to the t-shirt with heat. We only use the best quality materials available for all our print processes.

How do I place an order for printed leaver hoodies?

Simply fill in our quick contact form and a member of our team will be in touch to discuss your t-shirt printing requirements.
Not sure? Contact Us →
Happy Customers
We work with many clients across Surrey, London and the UK. Here are just some of the companies that have trusted Teetotal to produce their printed clothing.
Alex really helped us here @Greggs PLC with an emergency order after we had been let down by another company. great service and good value, will definitely use again. Many Thanks

Brilliant service, very quick turn around and very competitive prices. Alex at teetotal was super helpful, and I couldn't recommend teetotal enough.

Have used Teetotal a couple of time now and they are the best, I wouldn't go anywhere else. Highly recommend.

I get T-shirts printed regularly for my children's yoga classes. They are always top quality and Alex always manages to have them done for me even when I leave it to the last minute! Great service and very reasonable.....would highly recommend 🙂

I've had nothing but excellent service and quality from these guys. So, so pleased I found them. Their work, their customer service and the fact they are willing to continually go the extra mile make them not only a dream to work with but leaders in their market.

Alex at Teetotal has made our aprons for my business along with corporate stickers. The service is quick and efficient. I had struggled with previous companies with my logo colours but Alex went above and beyond to match to the exact colours. I can highly recommend Teetotal to any business looking for corporate company looking for printed or embroidered clothing.