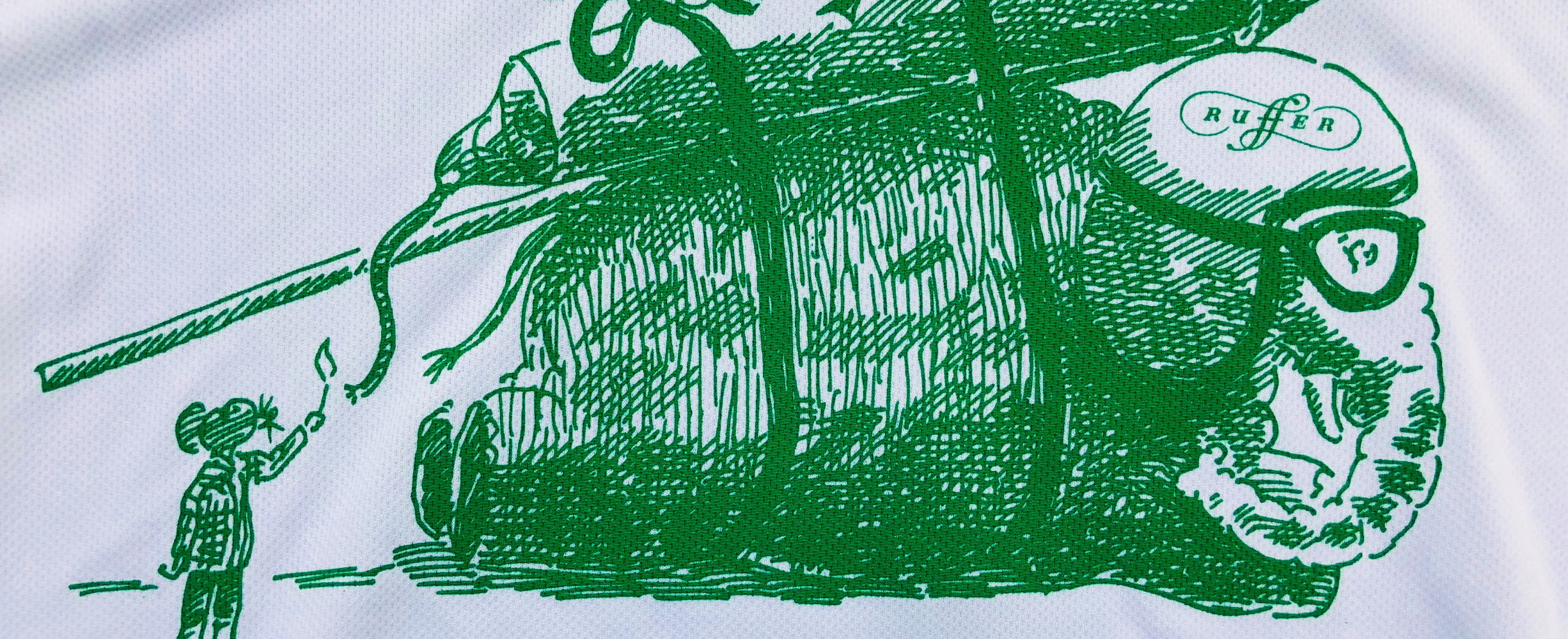 Screen Print
Screen print is best for bulk orders or large prints. It's vibrant, bold and cost effective.
Get a Quick Quote →
About Screen Printing
Minimum order 10 items / Printed onto our garments
Screen printing is a printing technique whereby a mesh screen is used to transfer ink onto clothing, except in areas made impermeable to the ink by a blocking stencil.
A squeegee is moved across the screen to fill the open mesh apertures with ink, and upon contact with the clothing, will transfer the ink over.
One colour is printed at a time, so several screens can be used to produce a multicoloured image or design. At Teetotal Ltd we are able to print up to six colours so there is plenty of scope to create even the most intricate designs.
Many people like the traditional feel of a screen print and for large orders it is often the cheapest option available.
You will pay a set up charge for the screens and then a running cost per print. One screen will be used per design/per colour. For smaller orders you may want to look at vinyl heat transfer as there are no set up charges, therefore making printing lower quantities more cost effective.
Speak to Us →
How to Order

Purchasing your clothing with us is extremely simple as we deal with most orders by email. To start the process off, send us a contact form and a member of our team will be in touch with a quote. If you are happy then an artwork visual will be sent by email for your approval. Then you can sit back, relax and wait for your branded clothing to arrive!

Bulk Orders

At Teetotal we primarily deal with bulk orders from 5 to 5000 items and we offer extremely competitive rates for larger orders. We supply businesses, schools and universities as well as private customers. We have numerous print processes available which all have differing minimum orders and can advise on the best process for your needs and budget.
Happy Customers
We work with many clients across Surrey, London and the UK. Here are just some of the companies that have trusted Teetotal to produce their printed clothing.
Alex really helped us here @Greggs PLC with an emergency order after we had been let down by another company. great service and good value, will definitely use again. Many Thanks

Brilliant service, very quick turn around and very competitive prices. Alex at teetotal was super helpful, and I couldn't recommend teetotal enough.

Have used Teetotal a couple of time now and they are the best, I wouldn't go anywhere else. Highly recommend.

I get T-shirts printed regularly for my children's yoga classes. They are always top quality and Alex always manages to have them done for me even when I leave it to the last minute! Great service and very reasonable.....would highly recommend 🙂

I've had nothing but excellent service and quality from these guys. So, so pleased I found them. Their work, their customer service and the fact they are willing to continually go the extra mile make them not only a dream to work with but leaders in their market.

Alex at Teetotal has made our aprons for my business along with corporate stickers. The service is quick and efficient. I had struggled with previous companies with my logo colours but Alex went above and beyond to match to the exact colours. I can highly recommend Teetotal to any business looking for corporate company looking for printed or embroidered clothing.